The packages offered for your holiday are always specified on our offers. You will find this information in the section "Your Dining Choices".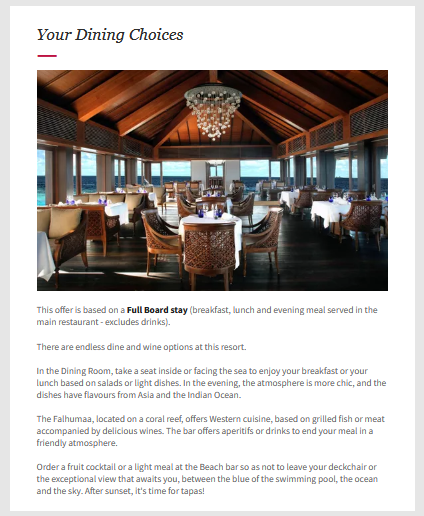 Here are more details on the negotiated offers :
All-inclusive: This package includes accommodation, meals with drinks (mineral water, fruit juices, soft drinks, wines, local alcohol). Some alcoholic beverages, as well as non-meal beverages, may not be included in the package and may be subject to an additional charge by the hotelier.
Full board (excluding drinks): Meals are included throughout the day. Drinks outside of the meal and extra during the meal are to be expected.
Half board: This formula includes breakfast and lunch or dinner as the case may be, without extra drinks.
Breakfast: Breakfast is included. Drinks and meals during the day are not included.